I'm happy to report I did it again…I completed the annual 60-mile ride for the American Heart Association for the fourth time! It was tough, but I managed to go the distance. And what a great feeling it was to roll past the finish line again this year, knowing I'd helped raise money for heart research.
My own heart was heavy before this year's race. I had just learned that my Silky Terrier, recently adopted from a puppy mill, had been diagnosed with pneumonia and a mass in his lungs. The gusting winds didn't help my low mood, but I wouldn't let it stop me; too many people had invested their belief and support in me and I wasn't about to let them down. Feeling that support helped me stay motivated when I faced those uphill climbs…and trust me, there were many. Somehow I always remember half the ride being uphill, but it's more like three-quarters. Even with all those hills, I love the route. It gives me a chance to see parts of Long Island I wouldn't normally see from my car. The horse farms, plush gardens, beaches, and smell of surf and fresh-cut grass surrounded me as I zipped by them.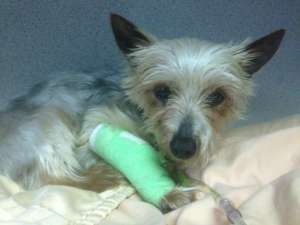 More than once I pleaded with the clouds for help as my tired legs approached yet another steep ascent. But I learned a valuable lesson as I raced downhill at 35 miles per hour: Going top speed on the way down gives you the momentum to get up the next hill, so you don't have to stop. It's a love/hate challenge, grueling and exhilarating. I'd do it all over again in a…heartbeat.
What I love about the challenge is that I push myself to the limit. When I feel I'm about to give up and start walking up the hill, I take one more deep breath and keep going. And I love bonding with the other riders. We talk and laugh along the way, even though we're competing. We look out for one another on the course. If one of us gets a flat, for example, we all help out; no one gets left behind. We're always there to support and encourage one another to believe we can finish. And we always do!
Oh, and my little terrier, Waldo? The mass turned out to be nonmalignant and manageable. A good day for lungs and hearts!
Rose Caiola
Inspired. Rewired.